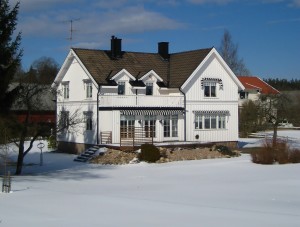 As winter approaches and temperatures begin to drop, it is important to prepare your home for the cold months that lie ahead. Preparing in advance may save you money, time, work and stress later. Follow these steps to prepare your home for winter.
Have an HVAC professional inspect your furnace. Make sure the furnace is functioning correctly and is clean. Stock up now on filters and change them monthly. This helps the furnace work properly and cuts cost on your heating bill. Be sure all flammable materials are removed from around the furnace.
Seal gaps that may allow cold air to enter. Leaks most often occur around doors or windows. Be sure your doors have adequate weather stripping and windows seal correctly. If necessary, apply a cold-weather calk around windows. This can save a lot on your heating bill.
Inspect your roof and gutters. Be sure there are no leaks in your roof and all shingles are properly in tact. Clean gutters as often as necessary as leaves quickly fill them.
Install/check all smoke and carbon monoxide detectors. Test your detectors and always keep extra batteries on hand. Install a carbon monoxide detector near your furnace and/or water heater to monitor levels. Always have a fire extinguisher on hand.
Take steps to prevent plumbing pipe freezes.Drain all water hoses. If your sprinkler system does not drain automatically, call someone to have it professionally drained. This can cost less and be less hassle than repairing a leak later. Run water frequently, even just briefly. If you leave for a weekend or more, keep the heat on no lower than 60oF and keep a faucet dripping to maintain water flow.
Trim trees with long, weak branches. As snow piles on trees, weak branches are likely to break. This can cause injury to people or your home.
Have Emergency Supplies on-hand. In case of a power outage or furnace failure, it is important to have at least one portable heater in your home (one that can switch to gas, propane or battery-power). Have multiple heavy blankets easily accessible. Because the nights are longer in the winter, have an adequate amount of flashlights (with fresh batteries) and emergency candles on-hand. Also have enough bottled water in case of a pipe burst or if water becomes unavailable. Have available a propane or gas stove in case of electrical failure.
Have your chimney inspected. Be sure it is cleaned of leaves, dust and bird nests. Be sure it seals tightly when the fireplace is not in use.
[contentblock id=5 img=gcb.png]