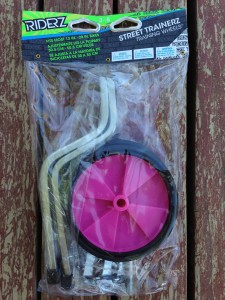 This week at the local thrift store, I found a deal on a couple of bikes for my girls. It was easy to tell that the bikes at one point had come prefabricated with designer training wheels and hardware. The only remnant of these training wheels were the leftover hardware still on the bike. I decided to pick up a set of training wheels, and bought the least expensive pair for $9. I will be detailing the instructions on how to install these training wheels made by Riderz.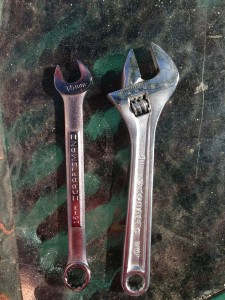 TOOLS YOU WILL NEED
1) 15mm Wrench
2) Adjustable Wrench
Hardware Included
2- Small Bracket Brace Plates
4- Nuts
4- Washers
2- Serrated Washers
2- Shoulder Bolts
2- Vertical Brackets
2- Wheels
Installation Instructions:
Attaching Wheel to Vertical Bracket
Assemble pieces on shoulder bolt in the following order:-Wheel – Flat Washer- Nut – Vertical Bracket, Flat Washer, Serrated Washer – Nut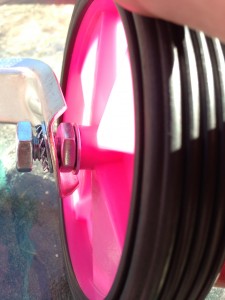 Attaching Assembled Training Wheel and Bracket to Bicycle
1. Remove axle nit and washer from bicycle axle.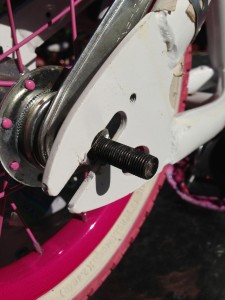 2. Place Bracket Brace Plate over bike axle by inserting the tab into the open space of the bike frame.
3. Place assembled training wheel onto bracket brace plate and adjust bracket height.
No nut between Bracket Plate and Vertical Bracket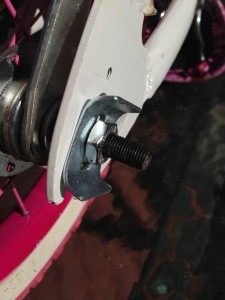 **THIS IS INCORRECT**
4. Replace axel washer and nut, and tighten securely.