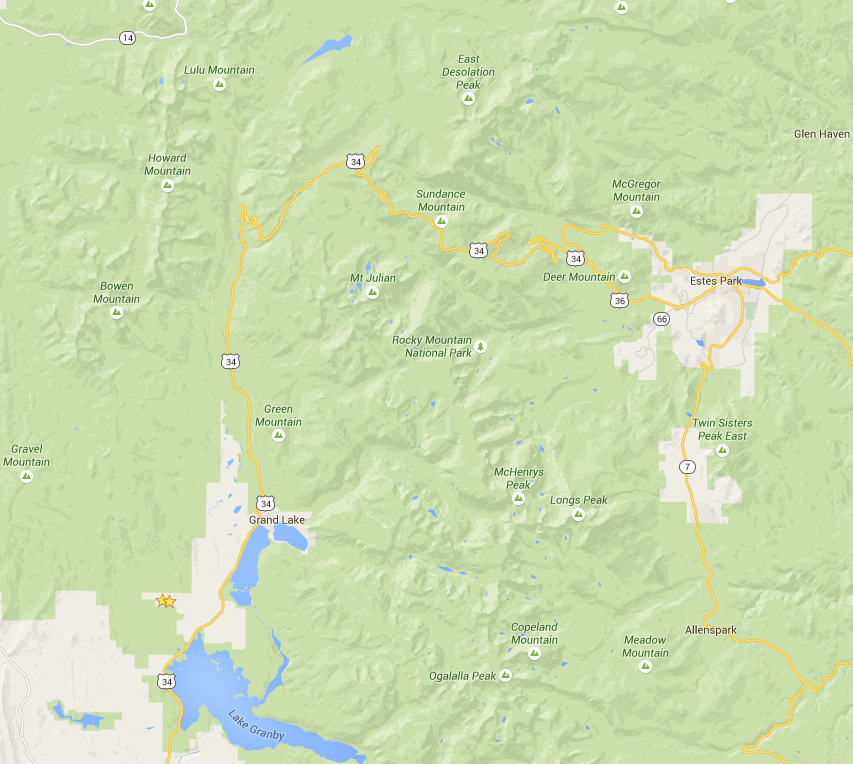 Our family has recently returned from a vacation to Rocky Mountain National Park. We went in July and had an absolutely fantastic time. This article today will review some ideas and tips for vacationing in this area. We drove into the park via the city of Estes Park Colorado, spending a full day there before going into the National Park. Then on the way out of the park we spent a full day in the city of Grand Lake, CO. I will divide up this article into three sections based on the two cities and the National Park itself.
Estes Park Colorado
Estes Park Colorado is a tourist destination. The city is built around entertaining visitors and has most of the amenities to prove it and is located at the north east entrance of Rocky Mountain National Park. If you are coming from the Denver Metro this is likely your best way into the park. We stayed one night in a local non-chain hotel and like usual we used reviews on Trip Advisor to make our final decision and it worked out fine. There are a ton of local lodges, cabins, and smaller hotels that will give you the local flavor you may be looking for in the Colorado mountains.
Downtown Estes Park is full of mountain touristy shops, restaurants, and ice-cream vendors. At least a few hours should be dedicated to walking the streets and experiencing the charm of the city. We ate dinner at a restaurant called Grubsteak and had a great experience there. Good food and good service. Nothing in this city is cheap so budget in touristy meal prices or pack your own food. Estes Park does have a Safeway grocery store on the main road and we stopped there to pick up some food items to pack with us and eat for breakfast.
There are a good number of potential activities in the town for families. This local website has a good catalog of things to do in town.
We took the kids to the Trout Haven Fishing Pond. It was a hit. We caught 4 fish in about an hour and watched the team gun and prep them for our dining pleasure when we got back home. The pond is stocked with fish that are all decent size so you can't really screw it up.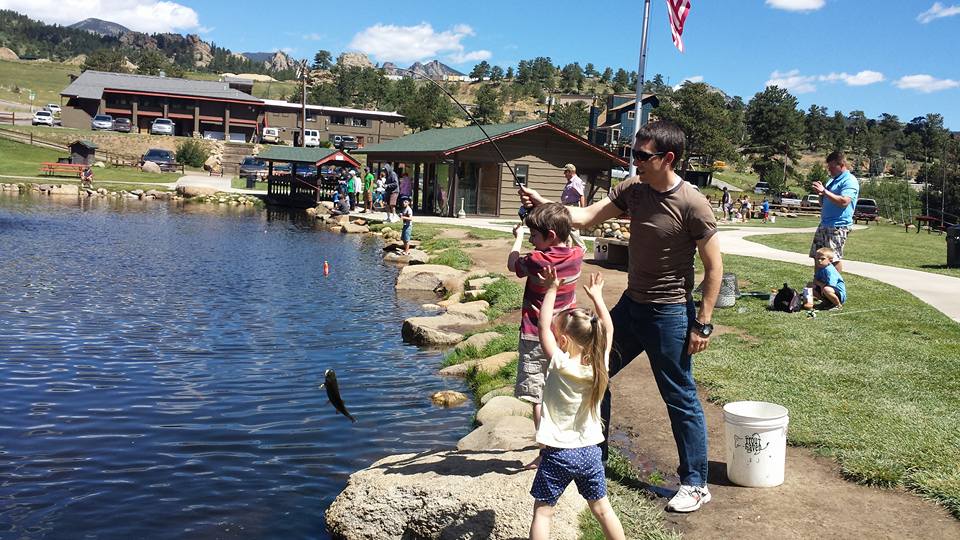 We also rode the Estes Park Aerial Tram. This is a small (8 adults) gondola type ride that takes you to the top of the mountain to the south of the town. You can hang out at the top to enjoy the scenery, a hike, a gift shop, or small cafe before riding back down. The cost wasn't horrific (and kids under 5 are free) but the lines to get on the tram were crazy bad. We were there on a Thursday… I can only imagine what the weekend would be like. Not sure if I would again justify the 90 minute line again for the 3 minute ride up and another 60 minute line for the same 3 minute ride down. If you want a fun hike or are into photography you might easily justify it.
Lastly, while in Estes Park you may have an interest in dropping by the Stanley Hotel. The inspiration for the movie "The Shining" and made famous by it's part in "Dumb and Dumber."
Rocky Mountain National Park
Here is the best website for researching the park, camping, activities, etc.
If you want to stay overnight in the park bring a tent or camper because there are no Park lodges or hotels. Campsites get booked well in advance so move on this 4-6 months in advance if you want in.
The park has five visitors centers. They are placed near both the Estes Park and Grand Lake entrances and other places in the park. The only one that offers any sort of food, and the one that gets the most traffic and has the best gift shop is the Alpine Visitor Center. The Alpine Visitor Center sits near the highest point on the road within the park (nearly 12,000 feet elevation). This is a must visit location that sits above the tree line in the mountains. No matter what time of year you come you will see snow and the temperature at this point is rarely over 65. We also saw a large herd of Elk near this visitor center.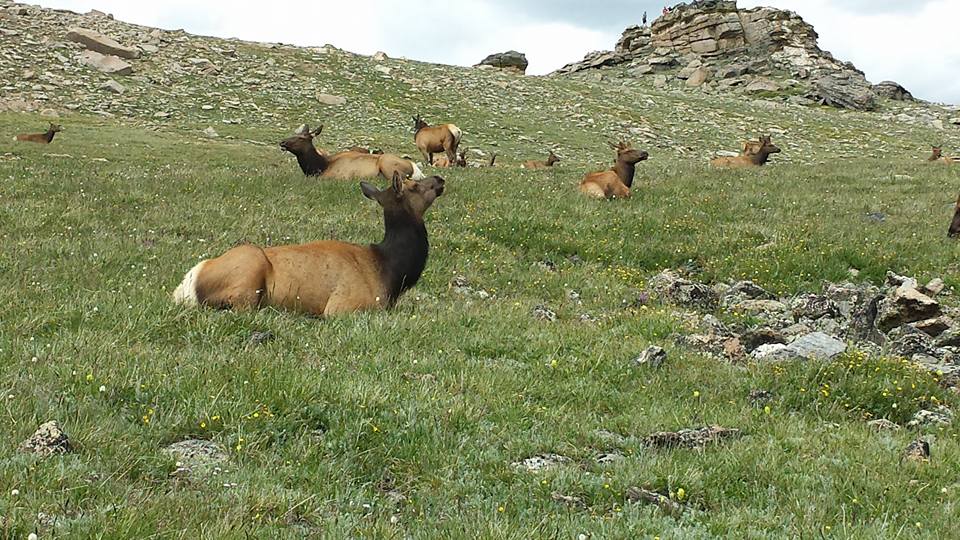 As far as wildlife goes if you drive the full stretch of the main road through the park you are very likely going to see Elk, Deer, and Moose. When you see a lot of cars pulled off the road and people with their cameras out that is a good sign something is stirring. Bears are certainly abundant in the area but less prone to be anywhere near roads or trails. Keep your eyes on the skies for eagles and hawks that are very impressive in their own right.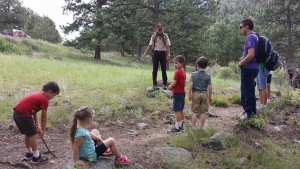 For young children there is a Junior Ranger program and a large number of ranger led nature walks and talks that our family really enjoyed. Ranger Led Program schedule here.
The parking lots at several of the more popular destinations like Bear Lake fill up very quickly. If you see a park and ride lot be sure to take advantage of it. Park the car and take the park shuttles around the park to save the aggravation of following people to their cars and fighting others for the empty spots.
Our favorite memories of the park are of hiking. There are so many great trails and hikes in the park with stunning views. If your family enjoys this kind of thing set aside time in the morning and afternoon for a great hike. List of most popular hikes here.
Grand Lake Colorado
The city of Grand Lake Colorado sits at the south west entrance of Rocky Mountain National Park. It felt to me like an older, more charming, and quieter version of Estes Park. Not nearly as many people but that same old school touristy type of activity and town. There are less options of places to stay a night than you might expect so you need to book early and read a lot of online reviews. There are plenty of camp grounds in the area.
There are also a large number of restaurants in the town. If you like BBQ there are two favorites. We dined at Grand Pizza which was a little over priced but the portions were good size for the money and the food was good. Warning… if you are the family who likes to come into town and hit up the local grocery store to supply your breakfasts and lunches for the trip you are in big trouble in this town. There is a single "marketplace" that is about the size of my basement with limited options and high prices.
The local chamber of commerce has a good repository of things to do in and around the town on their website.
We spent a lot of time at the Windy River Resort. The Windy River Resort is as close to Rocky Mountain National Park as you can be without being in the park. He has a large number of activities focused on it's trail rides and horseback riding. They also have a large number of camp sites and cabins for overnight visitors. We took our kids on a few pony rides and then spent some time at the "petting zoo" before skipping rocks across the river at the resort.
If you enjoy water sports you are in a good place. Grand Lake and Lake Granby (2nd largest lake in Colorado) are both picturesque spots for any water sports and there are a plethora of places to rent any sort of boat, ski, or other gear.