My family and I recently spent 4 days in Breckenridge Colorado. Breckenridge is a beautiful Colorado mountain ski resort city. In the summer it is full of fun activities and beautiful scenery.
What to do in Breckenridge
If you are looking for local events during your stay I would suggest this website: http://www.gobreck.com/events. In fact the gobreck.com site is full of great local information like restaurants etc. Beyond that there are of course lots of activities that are good year round.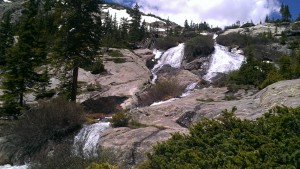 We enjoyed a beautiful hike during one day we were there. There are many trails in the surrounding area and don't forget that you are much higher in elevation than you are likely used to and that is going to play a factor in the distance you can hike. We took the Mcullough Gulch hike which ended up being about 3 miles round trip and ended at a wonderful waterfall. Via that link you can also see many other great hiking trails in the area. The best part is that a good hike doesn't cost you anything.
At the base of Peak 8 which is off of Ski Hill Road there are some awesome Alpine Slides and a really fun maze. This fun park includes other things too like a climbing wall, mini golf, etc. You can pay a hefty price to do everything as much as you want or you can buy ala carte tickets to single attractions but I think the Alpine Slides and the Mineshaft Maze are the best.
Also, starting in downtown and heading up to the Peak 8  park is a free Gondola ride. These Gondolas hold up to 8 people and are great for little kids and adults alike. The round trip ride would take about 15 minutes and gives a great view of the city and the mountain.
There are a variety of other standard resort town type activities like horseback riding (look for a groupon, its there every year), Kayak Tours, Paintball, Train Rides, etc. We did not take advantage of any of these because our kids are very young and our budget was limited.
No stay in Breckenridge would be complete without going down Main Street and checking out all the shops. We were there in June and every shop seemed to have a sidewalk sale to move all their winter clothing etc. We particularly loved the homemade fudge shop and cookie shop.
Where to Stay in Breckenridge
We decided to rent a cabin/home for our vacation. We looked via VRBO's site which seemed to be fully inclusive and offered lots of options. During the summer there is definitely a lot of available inventory and prices seemed reasonable to us. The reviews written by other people are always helpful. We stayed in a place in town near Peak 8 off of Ski Hill Road. I think if you were limited in budget you could easily find a place a little more on the outskirts of town for a lower cost. I would make sure the place you rent has air conditioning. A lot of these don't because they are primarily built to house people during the winter but during the summer it can get hot during the afternoon.
Other Tips for Family Vacations in Breckenridge
If flying into the state it would make the most sense to fly into DIA (Denver International) and rent a car to drive to Breckenridge. Its not a short drive but it can be manageable.
There aren't a lot of city parks in Breckenridge and much less playgrounds but Kingdom Park has a small playground and a few baseball fields. They worked well for some playtime despite not having any swings which my kids are most fond of.
In town there is a City Market which is a Kroger affiliated grocery store. The prices are not inflated considering its a resort town. It is convenient to get to and works for any shopping needs.