Before your children begin school, it is important to talk to them about family safety procedures; and overall safety going to and from school and while there. These procedures should then be reviewed before the start of each school year.
Consider discussing the following with your children:
Before beginning school, be sure your children know their basic contact information including:
Parents' full names
Address
Phone number
Parents' work place and phone numbers
Another Emergency contact.
Be sure they know how to use a phone if necessary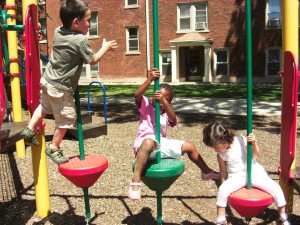 Make sure this information is memorized, but give a written copy to your child on an object they will take with them daily. This can be pinned into a backpack or taped to the inside of a lunchbox or pencil box.
Teach them to safely walk to and from school. Make sure your children know the dangers of walking to and from school.
Be sure they know how to safely cross roads. Teach them to always look both ways when crossing. If a crossing guard is used, teach them to only cross the road when the crossing guard signals it is safe.
Do not let them walk to school alone. Walk with your child or have another trusted adult walk with them. Decide as a family when your child is old enough to walk with a child their age.
Tell your children not to accept rides from anyone without your approval. If someone tries to pick up your child from school, have a family "code word" so the child knows you sent this person to pick them up. Have the code word be something easy to remember, but hard for others to guess. If you need someone to pick up your child, tell the trusted person the code word. Be sure your child knows to always ask for the code word when someone tries to pick them up. This should also be used if someone has to pick up your child in case of an emergency.
Discuss safety measures if children will take the school bus
Make sure your children arrive at the bus stop early (accompanied by an adult or another child if they are the appropriate age)
Be sure your children wait on the sidewalk for the bus, distancing themselves from the road.
Make sure the bus comes to a complete stop before your children try to board, or even approach the bus.
Tell your children to always remain seated while riding the bus.
As with boarding, children should not get off the bus, or even stand, until the bus is at a complete stop.
Discuss playground safety for recess and other activities. Be sure an adequate number of adults will accompany your children at recess. Though some accidents can't be avoided, teach your child the best ways to prevent accidents while on the playground.
Teach them not to push, shove or crowd when playing on equipment.
Before they begin school, take them to the playground so they are familiar with the equipment. This way, you can see what equipment is appropriate for their age. Be sure you discuss this with your children before they begin school.
Discuss school and classmates with your children. Ask your children questions. Be sure you know:
Who their friends are
What subjects they excel at and what subjects they struggle with
What extra activities they are involved in
What emotional situations they face
How to protect your children from "strangers"
Be sure your children are constantly supervised by you or someone you trust. Always know where your child is.
Be sure you discuss with your child what a stranger is and why they can be dangerous.
If a child is lost, be sure they know who they can go to for help (uniformed officer, store or other personnel, etc). Other than designated people, teach your child the old caution of "Don't talk to strangers."
If someone tries to take your child by force, teach them it is okay to scream out and ask for help. The "code word" can be used in a situation like this as well.