As a community here at RepresentingDads.com we have taken a simple step toward making our community of fathers stronger. We know how important it is for Dads to hear from other Dads. Our passion for empowering fathers in all arenas of their lives led us to launch this venture in 2013. Many of our readers have chimed in and contributed ideas and thoughts about how to be better dads. Despite this success so far, many of you don't have the time or desire to contribute fully written out articles and ideas about fatherhood. That is why, moving forward, we will be leveraging social media to empower our community in a more simple and powerful way.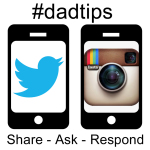 Moving forward if you have an idea of how we can be better Dads, just tweet it or share it on Instagram and include the hashtag #dadtips in your post. Here at our site, we will be aggregating all of these simple and fast tips and displaying them on the sidebar of every page on our website. Come by often to see what other Dads are sharing via these popular social channels.
We also hope this will serve as a way you can ask questions to the community of Dads. Trying to figure out what to do with the kids tonight or looking for a Halloween craft or safety tip? Just post your question to Twitter with the hashtag #dadtips and our community of Dads is available to respond.
If you have other ideas of how we can strengthen and empower Dads don't hesitate to share you thoughts!