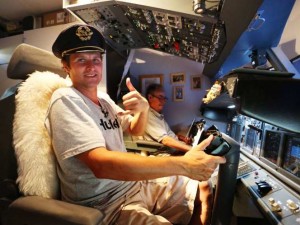 You were able to build a train set in your kids room? How simple. When you are ready to step it up a bit and really build something special, I recommend building an actual 747 cockpit.
Let me introduce to you Laurent Aigon, a father in France who has completely out-classed all the DYI dads out there by completing a 5 year build on a Boeing 737 cockpit – in his kid's bedroom.
The original story was covered on the French website Sud Quest. Here's a video of the the cockpit in action:

Aigon isn't even in the airplane/aerospace industry. He's a waiter, and at 40 years old, scoured the internet for Boeing 737 parts. Over 5 years and thousands of euros, he created this authentic cockpit that can fly with actual geography and weather.
Aigon was even recently invited to lecture at the Institute of Aircraft Maintenance at Bordeaux-Merignac about his flight simulator.