This last summer we took our family to Mount Rushmore in South Dakota. We made a four day trip out of it and learned some of the best practices for next time we head to the Black Hills.
The Area Has Been Groomed to Entertain Families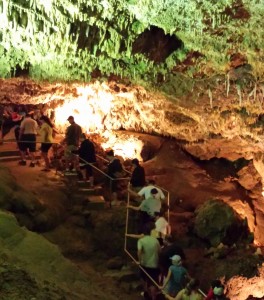 Its impressive how much the area has been developed to keep families entertained on that trip to Mount Rushmore National Memorial. If you have the budget and don't mind spending it you can do some really cool stuff. Bear Country is a fun "drive thru zoo" type experience that is sure to please everyone. Reptile Gardens has more species of reptiles than anywhere else in the world. There are various caves that give tours, zip lines, mines, and other equally fun stuff.
Our children really loved Rushmore Cave.
Specifically About Crazy Horse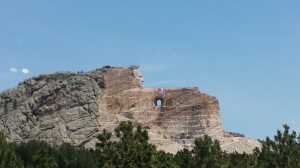 Down the road and around the bend is another mountain carving in progress called Crazy Horse. This mountain carving of a famous Native American warrior on his horse has been under construction for over 60 years… and if I'm any judge I would say it has another 100 years to go. Seriously, this is going to take a really long time to complete. This is in part because it isn't government supported or funded (not due to a lack of effort or interest). This private project is a little slow moving and is funded by your admission fee which is more than double what it will cost you to see Mount Rushmore. You can't get that close to the mountain (its under construction) but there is a large Native American museum and gift shop. There is also a decent restaurant where you can get food if you would rather not pack a lunch. If you have the time I would say its worth swinging by but if I return to Rushmore in the next 20 years I doubt I'll stop by Crazy Horse again.
There Are A Few Free Things For Younger Kids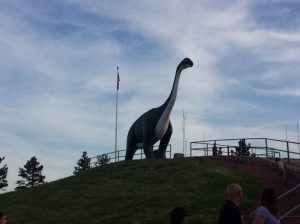 My children were 3 and 6 years old when we visited South Dakota. To fill a little time and save some cash we found two other simple things in Rapids City South Dakota that our kids enjoyed greatly. One is the Rapids City Dinosaur Park. This small park of 5 life size concrete dinosaurs was built over 50 years ago and while adults might find it a little cheesy my kids thought it was awesome. Cost: $0.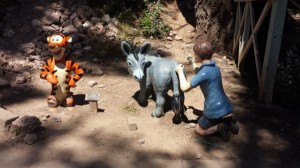 We also stopped at Storybook Island which is a public park consisting of various built out figures, buildings, etc from children's stories. You can see Cinderella and her carriage as well as Smoky the Bear, the 3 Little Pigs, the 100 Acre Wood, and 3 Billy Goats Gruff. Cost: $0 (but they encourage a donation of $1 per person).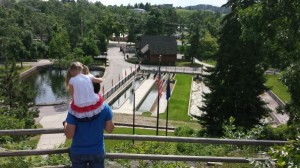 We also stopped at the DC Booth Fish Hatchery in Spearfish SD where we stayed a night on our trip. This is an old historic fish hatchery that has been renovated and is back in operation more as a tourist and historical site than anything else. My kids thought it was fun and we fed some fish and made our suggested donation as well.
Don't Forget Devil's Tower
As long as you are in the area you should cruise over to north eastern Wyoming and visit Devil's Tower. The first national monument in the USA, Devil's Tower is a massive, round, rock sticking out of the ground. Sound boring? Its not. Super cool. We stopped there first on our trip and then drove to Spearfish, SD where we stayed a night before going to Mount Rushmore.
The Mount Rushmore Experience
Yeah I thought it was awesome! Some people have told me they felt underwhelmed by it, perhaps because you can't get close enough to climb on Lincoln's nose but that was not my impression. I felt deeply impressed by the monument and what it represents and I think you will too. We stayed there for 8 hours (yeah I like my US History) and my children were not bored by it. We did the Junior Ranger program which you may be familiar with if you have been to many National Parks or Memorials. There are some short films to watch, a museum, gift shops, and a great restaurant in the traditional format of National Parks. They also have a fun ice cream shop, that they claim uses Thomas Jefferson's own ice cream recipe.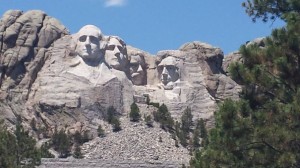 Walk the full trail that takes you to the bottom of the mountain. Take a few pauses (required if you children tire as fast as mine do) and tell your children stories about the 4 presidents above you. Visit the Sculptor's Studio and listen to the ranger tell his story about the monument.
Arrange your stay to be there in the evening for the daily ceremony. The ranger will give a moving speech, show a video, and then turn on the lights that light up the mountain. Sound cheesy… its not.
Experiencing The Black Hills
Don't forget that you are in a National Forest and right outside of Custer State Park. There is a ton of beautiful hiking trails, fishing, and camp grounds. We took a Sunday morning light hike just down the road from Mount Rushmore and it was very healthy for the kids and we were able to appreciate the beauty of the region.
Hotels and Meals
I'm cheap and we spent some considerable time in advance hunting down the cheapest hotels that we could find. We only slightly regretted this. The Quality Inn in Spearfish was a little too cheap but otherwise it all worked out. We used Google Places and TripAdvisor to read reviews and that is always helpful. Some of the local hotels will give you a slight discount if you book and pay in advance… and if you are going to be there in the summer you better book far in advance. Relative to Mount Rushmore you can stay in Rapids City SD without any issue. If you have a higher budget you could find something in Keystone SD or look for a cabin or place in the area or in Custer State park.
We stopped by grocery stores a few times during our trip and picked up food for picnics and pack lunches. All the hotels we stayed in had refrigerators (a requirement when we were looking) and we kept a small cooler in the car so we could keep some foods with us during the trip to feed the kids healthy foods without costing us a fortune. We also bought a case of bottled water on our first day and that proved to be helpful during the whole trip.