In my youth my family was not a family of health or fitness. My mom tried to get us to eat healthy and we were as active as most families but my parents did not set great examples of exercise and we didn't go too far out of our way to eat healthy food. Of course it didn't help that I've always been a picky eater. I'm also the only one of 5 children who participated in any school sports. It was later in life that I saw my siblings and father determine to get into the spirit of health and exercise.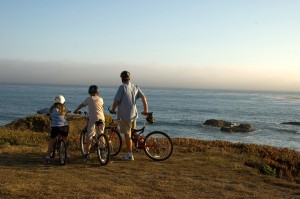 When my wife and I were married we had an open discussion about what we would do to create a strong culture of fitness. We had friends whose families were all skiers or all swimmers. We thought that it was a good idea to have a similar "thing" in our family that would encourage activity that we could all do together as a family. My wife came from a family of bikers but I'm a runner… I won. My wonderful wife agreed to give running a try.
I don't know that a family has to have a "thing" that they do together that is healthy. More important is just creating a culture where activity and fitness are important. I think that as parents and as fathers we have a lot to do with that. Here are a few final thoughts along those lines:
Encourage Activity and Sports at A Young Age
Since all children are different I think a good way to help encourage health is to help them try lots of different healthy activities. In addition to being healthy, activities at that age also lead to greater social skills. Get kids involved in soccer, gymnastics, martial arts, swimming, biking, etc.
Be A Positive Role Model
Kids need to see that fitness is a part of life. Show them that it is important to you, possible in a busy schedule, and most importantly fun. Be the one to set out on the weekend hike and show them that you are in the front and not just pushing from the back.
Create Family Events Around Fitness
A key to teaching anything is creating lasting memories. In our house we run a lot of local 5Ks. These tend to be big events with vendor booths and activities. Trips to the mountains for hiking or skying also go a long way to create an experience around exercise.
Activity is contagious and even more so when its something that the family enjoys together!